OUR CHALLENGE
For over forty years, Isopan has been actively contributing to the global challenge of improving the building industry, in accordance with environmental sustainability.
Isopan has created and launched a new technology that will allow your building to achieve better performances, increased sustainability, higher safety and thermal insulation, combined with Isopan's expertise.
LOWER HEAT LOSS UP TO 20%
The harsh industry regulation concerning the enhancement of thermal performances, Isopan has deeply innovate its production technology and developed a new generation of insulating materials.
LEAF technology improves the thermal performance of the insulating material, by lowering the thermal conductivity of polyurethane foam.
LEAF technology provides therefore lower thermal transmittance values compared to standard products.
This improvement leads to lower heat loss (up to 20%) on the building envelope.
HALOGEN FREE
LEAF technology represents a step towards more sustainable buildings, thanks to the continous effort of Isopan R&D.
Commonly used flame retardants improve fire perfomances of insulating materials, but they contain halogenated compounds, potentially dangerous for the environment.

With LEAF technology, Isopan offers best fire perfomances without halogenated flame retardants.
LEAF for Cost Reduction
The insulation panel market stands out thanks to its optimal thermal insulation coefficients and cost reduction during building operation. This double advantage is due to the dry construction and the will to give a satisfactory answer to the energy efficiency requirements of the building sector.
LEAF stands out from other similar products, thanks to its improved performance and its combination with sustainability. The thermal insulation offered by polyurethane panels with this technology guarantees up to 20% less heat loss from the building envelope. A figure that has practical implications that can be measured and monetized.
Therefore, the energy consumption of buildings is reduced by the same amount, which generates constant savings. In addition, the option of reducing the panel thickness thanks to LEAF allows maximizing internal volumes, to obtain more space inside which can be reflected in less internal traffic, more space for handling and increased storage.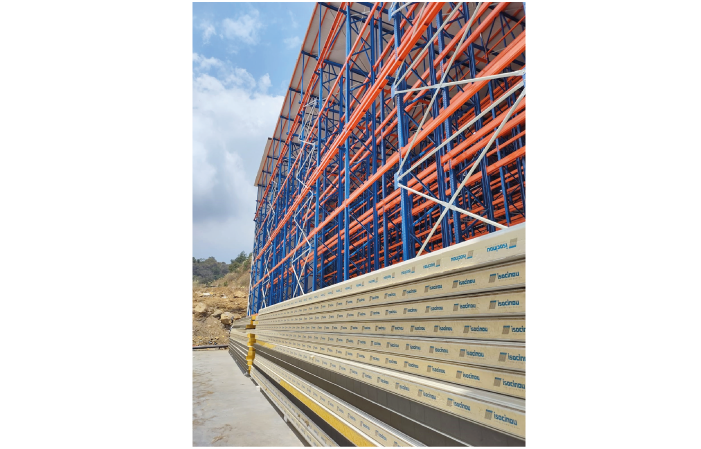 LEAF is the first technology in Europe with a DECLARE label and contributes to obtain credits for LEED and BREEAM certifications to create high-value projects in the field of sustainability and attention to the environment.
Learn more about the issues involving LEAF on the Isopan MAGAZINE .
You will find insights on the sandwich panel, the certifications, the world of dry construction and the opinion of our technicians and partners.
LEAF tecnology is available for sandwich panel production. Regarding Isofrigo GI panel, it is necessary a performance verification, taking into account the on site joint installation. For futher information, please contact Isopan.
MARKET
Česká republika

Deutschland

España

France

Italia

México

România

USA

Россия
LANGUAGE
American

Mexico

Русский

Română

Nederlands

Italiano

Čeština

Français

Deutsch

Español

English
You will see the site in English with the Czech portfolio
You will see the site in English with the German portfolio
You will see the site in English with the Spanish portfolio
You will see the site in English with the French portfolio
You will see the site in English with the Italian portfolio
You will see the site in English with the Mexican portfolio
You will see the site in English with the Romanian portfolio
You will see the site in English with the American portfolio
You will see the site in English with the Russian portfolio
Verás el sitio en mexicano con el portafolio checo
Verás el sitio en mexicano con el portafolio alemán
Verás el sitio en mexicano con el portafolio en español
Verá el sitio en mexicano con el portafolio francés
Verás el sitio en mexicano con el portafolio italiano
Verás el sitio en mexicano con el portafolio mexicano
Verá el sitio en mexicano con el portafolio rumano
lang_mx_switcher_with_usa_portfolio
Verá el sitio en mexicano con el portafolio ruso
Вы увидите сайт на русском языке c чешским портфолио
Вы увидите сайт на русском языке с немецким портфолио
Вы увидите сайт на русском языке с испанским портфолио
Вы увидите сайт на русском языке с портфолио на французском
Вы увидите сайт на русском языке с итальянским портфолио
Вы увидите сайт на русском языке с мексиканским портфолио
Вы увидите сайт на русском языке с румынским портфолио
lang_ru_switcher_with_usa_portfolio
Вы увидите сайт на русском языке с русским портфолио
Veți vedea un site în limba română cu portofoliul ceh
Veți vedea un site în limba română cu portofoliul german
Veți vedea un site în limba română cu portofoliul spaniol
Veți vedea un site în limba română cu portofoliul francez
Veți vedea un site în limba română cu portofoliul italian
Veți vedea un site în limba română cu portofoliul mexican
Veți vedea un site în limba română cu portofoliul românesc
lang_ro_switcher_with_usa_portfolio
Veți vedea un site în limba română cu portofoliul rus
lang_nl_switcher_with_cs_portfolio
lang_nl_switcher_with_de_portfolio
lang_nl_switcher_with_es_portfolio
lang_nl_switcher_with_fr_portfolio
lang_nl_switcher_with_it_portfolio
lang_nl_switcher_with_mx_portfolio
lang_nl_switcher_with_ro_portfolio
lang_nl_switcher_with_usa_portfolio
lang_nl_switcher_with_ru_portfolio
Vedrai il sito in italiano con il portafoglio ceco
Vedrai il sito in italiano con il portafoglio tedesco
Vedrai il sito in italiano con il portafoglio spagnolo
Vedrai il sito in italiano con il portafoglio francese
Vedrai il sito in italiano con il portafoglio italiano
Vedrai il sito in italiano con il portafoglio messicano
Vedrai il sito in italiano con il portafoglio rumeno
lang_it_switcher_with_usa_portfolio
Vedrai il sito in italiano con il portafoglio russo
Uvidíte web v rumunštině s českým portfoliem
Uvidíte web v rumunštině s francouzským portfoliem
Uvidíte web v rumunštině se španělským portfoliem
Uvidíte web v rumunštině s francouzským portfoliem
Uvidíte web v rumunštině s německým portfoliem
Uvidíte web v rumunštině s mexickým portfoliem
Uvidíte web v rumunštině s rumunským portfoliem
lang_cs_switcher_with_usa_portfolio
Uvidíte web v rumunštině s ruským portfoliem
Vous verrez le site en français avec le portfolio tchèque
Vous verrez le site en français avec le portfolio allemand
Vous verrez le site en français avec le portfolio espagnol
Vous verrez le site en français avec le portfolio en français
Vous verrez le site en français avec le portfolio italien
Vous verrez le site en français avec le portfolio mexicain
Vous verrez le site en français avec le portfolio roumain
lang_fr_switcher_with_usa_portfolio
Vous verrez le site en français avec le portfolio russe
Sie sehen die Seite in deutscher Sprache mit dem tschechischen Portfolio
Sie sehen die Seite in deutscher Sprache mit dem deutschen Portfolio
Sie sehen die Seite in deutscher Sprache mit dem spanischen Portfolio
Sie sehen die Seite in deutscher Sprache mit dem französischen Portfolio
Sie sehen die Seite in deutscher Sprache mit dem italienischen Portfolio
Sie sehen die Seite in deutscher Sprache mit dem mexikanischen Portfolio
Sie sehen die Seite in deutscher Sprache mit dem rumänischen Portfolio
lang_de_switcher_with_usa_portfolio
Sie sehen die Seite in deutscher Sprache mit dem russischen Portfolio
Verá el sitio en español con el portafolio checo
Verá el sitio en español con el portafolio alemán
Verá el sitio en español con el portafolio en español
Verá el sitio en español con el portafolio francés
Verá el sitio en español con el portafolio italiano
Verá el sitio en español con el portafolio mexicano
Verá el sitio en español con el portafolio rumano
Verá el sitio en español con el portafolio americano
Verá el sitio en español con el portafolio ruso
You will see the site in English with the Czech portfolio
You will see the site in English with the German portfolio
You will see the site in English with the Spanish portfolio
You will see the site in English with the French portfolio
You will see the site in English with the Italian portfolio
You will see the site in English with the Mexican portfolio
You will see the site in English with the Romanian portfolio
lang_en_switcher_with_usa_portfolio
You will see the site in English with the Russian portfolio